The summer months are the busiest time of year for landscaping professionals. As the owner, you might be busy with day-to-day business tasks, such as scheduling work crews, reading fleet maintenance reports or responding to client questions. One important task you should never overlook: Ensuring you have the proper insurance coverages to keep your business, clients and employees safe.
Insurance is a vital safety net for any business, insulating the company against risk and providing financial protection in case of a claim. During the busy season, it's crucial for your business's longevity and your employees' safety to carry the proper insurance coverage. Without it, a workplace injury, loss of equipment or destruction of clients' property can result in significant financial losses — or even bankruptcy.
Ensure your business is protected against the risks of the busy season by reading below for our overview of the top insurance coverages for landscaping businesses.
Safeguard Your Clients and Their Property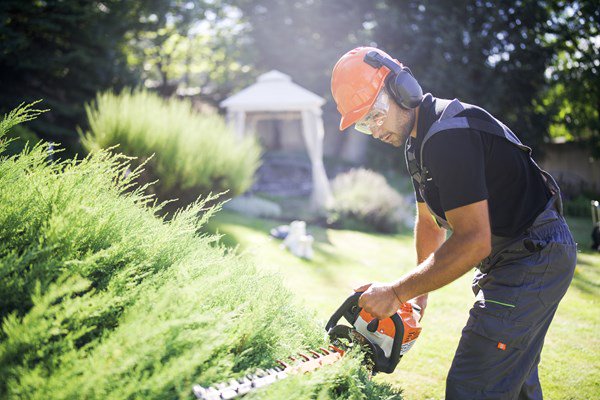 Has your landscaping company ever damaged a client's property while on a job, such as backing a heavy piece of machinery into their fence or breaking a window with a stray tree branch? Accidents happen, but because landscaping occurs at customers' homes and businesses, third-party injuries and property damage can be a significant risk to your business's bottom line.
The first policy most landscaping companies purchase is commercial general liability insurance. This coverage protects you from various liability claims — including bodily injury, property damage, personal injury and others — that can arise from your daily business operations. Suppose a customer trips over a piece of forgotten equipment and breaks their leg. In that case, general liability insurance can help cover any necessary medical bills and legal expenses arising from a lawsuit, such as attorney fees, settlements and court-ordered judgments.
Additionally, general liability insurance helps deliver peace of mind for you and your customers. By showing your customers that you have taken steps to protect yourself — and their loved ones and property — from any potential claims, they will be more likely to trust your business.
Protect Your Equipment and Tools
It's a familiar nightmare for many landscaping companies: You wake up early, ready to head to the job site, only to discover the window of your company-branded vehicle is smashed. Thousands of dollars' worth of tools, materials and equipment are gone in the blink of an eye.
Does your company have a backup plan if an important piece of equipment is stolen or damaged? Do you have the funds to bankroll its replacement or repair? Without the proper gear and equipment, it's simply not possible for landscaping companies to complete their projects on time and within budget.
That's why landscaping companies must carry commercial property insurance, commercial auto insurance and a contractor's tools and equipment policy. Each line of coverage provides unique protection for your business, reducing the time you need to recover from the loss:
Commercial property insurance – Commercial property insurance helps protect your owned or rented building and the tools and equipment you use to operate your business. It covers losses from many sources, such as fire, burglary and theft. When choosing commercial property insurance, insure your property to the full replacement cost. Failing to do so can result in improper coverage following property losses and leave you vulnerable to significant financial setbacks and penalties.
Commercial auto insurance – Commercial auto insurance covers injuries and damages your employees may cause to other people and their property while driving for business. These policies can also include coverage for cars you borrow or rent and employees who use their vehicles for your business.
Contractor's tools and equipment policy – Unlike a commercial property insurance policy, which protects tools and equipment in buildings specifically listed on your policy, a contractor's tools and equipment policy provides coverage while at job sites, in temporary locations and during transit. This coverage is potent protection for landscapers, as your tools and equipment are at the most risk for damage or theft while on the job site.
Prioritize Employee Health and Safety
While the busy season can benefit your business's bottom line, it can pose risks to your employees. Working in blazing temperatures, operating heavy equipment — and even the types of landscaping work your business takes on — can leave them vulnerable to work-related accidents or injuries.
Safeguard their health — and your financial future — by carrying proper workers' compensation insurance for all your employees. Workers' compensation insurance protects your business when one of your employees is hurt on the job or becomes ill due to workplace conditions.
Workplace injuries can give rise to lawsuits, especially if an employee believes their injury resulted from inappropriate workplace practices, such as failure to comply with safety measures or improperly maintaining equipment. Many workers' compensation policies include "employers' liability insurance," which protects against workplace injury-related lawsuits.
In Michigan, workers' compensation is mandatory for most of the state's workers, according to the Michigan Department of Labor & Economic Opportunity. Failure to comply is a misdemeanor that can lead to jail time and fines, so ensure your business is protected.
Maintaining the appropriate insurance coverages for your landscaping business is vital in ensuring the long-term success of your company. On-the-job accidents, injuries or illnesses can harm your financial future without proper coverage, forcing you to pay off costly claims or judgments out of pocket.
Contact MNLA's insurance expert, Ashley Thomas, for a free risk analysis and to ensure you have the proper insurance for your business. Learn more about available coverage at ashley_thomas@ajg.com for a coverage review.
---
The information contained herein is offered as insurance industry insight and provided as an overview of current market risks and available coverages and is intended for discussion purposes only. This publication is not intended to offer legal advice or client-specific risk management advice. Any description of insurance coverages is not meant to interpret specific coverages that you or your company may already have in place or that may be generally available. General insurance descriptions contained herein do not include complete insurance policy definitions, terms and/or conditions, and should not be relied on for coverage interpretation. Actual insurance policies must always be consulted for full coverage details and analysis. Insurance brokerage and related services to be provided by Arthur J. Gallagher Risk Management Services, Inc. (License Nos. 100292093 and/or 0D69293).
©2023 Arthur J. Gallagher & Co. | 1040549373