We make it easy.
With 20+ small business insurance hubs across the country, we bring local expertise right to you.
We understand small business owners. We think of you as our Chief Everything Officer (CEO) because as a small business owner, you have to do it all. Every business decision falls on your shoulders. You need to rely on people who know how to protect your specific business. That's why our small business risk experts are so important. We take the time to understand your needs, then connect you to the best insurance carriers to protect your type of business.
Why Choose Gallagher Small Business?
We're the Small Business experts. We empower you with the protection you need so you can pursue your passion with confidence.
Superior Value
As one of the world's largest insurance brokers, we have a broad reach in the insurance market with deep relationships to match you with the best carrier and the right coverage for your specific business — at the right price.
Small Business Experts
Our small business experts speak your language. We take the time to understand your business so we can protect and serve you. Our goal is to make it simple and worry-free.
Client-Focused Service
We provide several service models so you get to choose how we serve you. We'll be there when you need us.
Claims Advocacy
Our size and strength means you'll receive best-in-class service and specialized attention from insurance carriers. Our small business experts ensure you have a good claims experience when the unexpected happens.
Value Beyond Insurance
We care about your small business and community. With Gallagher Perks and The Link, you benefit from important content and savings on all kinds of things you need to run your business.
We Do the Right Thing
We have been recognized as one of the World's Most Ethical Companies®, underscoring our commitment to serving with integrity and prioritizing ethical behavior.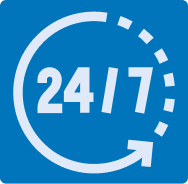 We're always here to help. Servicing your policy at your convenience, with email, a phone that will be answered by a friendly person and Gallagher Go, our convenient 24/7 self-service portal.
Global Player Advantage
Although we're laser focused on serving Small Business, we have the advantage of being part of Arthur J. Gallagher, the world's 3rd largest insurance, risk management and consulting firm. Gallagher's broad reach and leverage in the industry allows us to give you big business buying power at tremendous small business value. As your business grows and risks evolve, our Gallagher colleagues can guide you through the insurance waters and help you evaluate your options every step of the way. We'll be there for you from the time you open your door until… well, forever.
Contact us via phone, email or even here.

What our customers are saying about us
We're proud of going above and beyond for our customers. Checkout how we've helped small business owners over the years.
"I worked with Michelle, and she provided fantastic service. She took the time to understand my situation, was creative and responsive, and took care of my needs very efficiently."
"Professional in every way. Easy to understand all the options. No pressure."
"Kenessa came to our rescue when our current insurance brokers became less dependable. She listened to our needs, she provided insurance options and explained the policies in detail. Thank you Kenessa and Gallagher for meeting our needs."
"Shane made working with Gallagher a smooth and enjoyable process. He was incredibly knowledgeable and able to answer all of my insurance and liability questions as a new business owner. Ultimately he was able to propose multiple quotes for my business before I settled on the perfect one. Thank you Shane and Gallagher!"
"Wonderful, fast and easy."
"They always have a very quick response to our questions or certificate of insurance needs. It's helpful to complete these things online and they're quick to send information back to us."
"Something that took over two weeks with other insurance brokers and insurance carriers and ended in no quotes, expensive quotes from multiple carriers, or not even a returned phone call or reply to an email, Kenessa had it done in a few hours. She kept me informed along the way and answered every question sent her way."